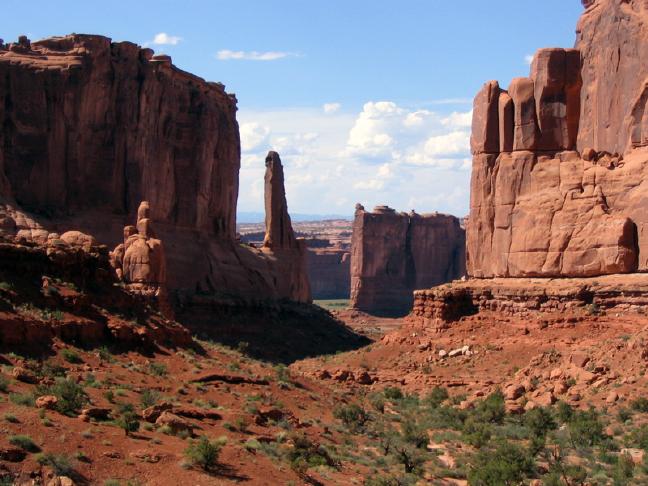 Over the last eight years, millions of people have protested and marched against the injustices, excesses and ineptitude of the Bush Administration.
The most recent and most famous is now the Iraqi journalist, Muntadhar al-Zaidi, who threw his shoes at Bush uttering the words, "That is a farewell kiss, you dog." But he is not alone in giving one back to Bush.
Last Friday, Tim DeChristopher, a 27 year-old economics student from the University of Utah, finished his exam and hurried out the door.  Rather than head to the bar to celebrate with his friends, DeChristopher headed to downtown Salt Lake City.
There, in an anonymous looking building, the Bush Administration was leasing off huge tracts of land to oil and gas companies in a public auction.  I blogged last month about how Bush was trying to rush through the sale of thousands of acres of land on oil shale.
But the Salt Lake City event was the final auction by the Administration's Bureau of Land Management and the final gift from Bush to his oil industry buddies. In total, the Bureau was leasing nearly 150,000 acres of beautiful rugged wilderness areas in southern and eastern Utah, famous worldwide for its stunning redrock desert.
Even this total had been reduced because of the huge public opposition as well as from the US National Park Service, members of Congress and John Podesta, the head of President-elect Barack Obama's transition team.
Not quite knowing what he was going to do when he got there, DeChristopher walked past placard waving protestors in to the building. Having passed security and registered, it suddenly dawned on him that he could start bidding for the parcels of land coming up for lease. He started bidding at first – a bit cautiously to start with – but then much to his surprise started winning bids.
In total DeChristopher won bids totalling about $1.8 million on more than 10 lease parcels, totalling 22,000 acres. He also started pushing up the value of other pieces of land. "Once I started buying every parcel of land there was a lot of chaos and people didn't know how to proceed" he told Democracy Now.
As bidders complained, Tim was then questioned by the FBI and subsequently released. "I decided I could be much more effective by an act of civil disobedience," he said afterwards. "There comes a time to take a stand." Tim does not know if he will face trial, but has said he is willing to go to jail.
The Iraqi journalist Muntazer al-Zaidi has won world-wide support for his actions, but in his own way DeChristopher threw an equally deadly spanner at George Bush too. As the Salt Lake Tribune said: "He didn't pour sugar into a bulldozer's gas tank. He didn't spike a tree or set a billboard on fire. But wielding only a bidder's paddle, a University of Utah student just as surely monkey-wrenched a federal oil- and gas-lease sale, ensuring that thousands of acres near two southern Utah national parks won't be opened to drilling anytime soon."
And by the time Tim's 22,000 acres come back for auction, Obama will be in office and the whole lot may well be saved. But he does not yet know if he faces jail. If you want to support him or donate to his legal defence go here.