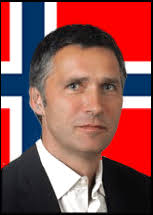 Norway, which is the world's third largest oil exporter, has announced plans to offset the greenhouse gases produced by public employees when they fly abroad by buying emissions credits.
The move was announced by Norway's prime minister Jens Stoltenberg. "The government has decided that when state employees travel by plane abroad, we will buy quotas for the emissions caused by the trip," he said adding that the scheme was probably the most ambitious of its kind in the world. The Norwegian news agency, NTB put the cost of the scheme at 2.5 million kroner ($400,000,) per year.
The announcement was met with skepticism by some. Norway's Nature and Youth environmental group said: "The government should first reduce its ambitions for the oil and gas sector in Norway, which accounts for a third of emissions of greenhouse gases."
Good point that last one.