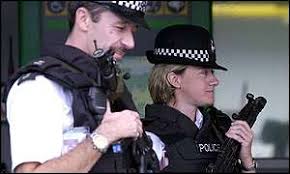 In this day and age, energy security does not just mean securing enough oil and gas supplies it means protecting them too. In these days of heightened terror alerts the Sunday Times has reported how "a special armed police force is being proposed to protect Britain's main oil, gas and electricity installations from terrorist attack by Al-Qaeda".
Key strategic sites such as the Milford Haven gas terminal on the Welsh coast and national grid power stations that supply London and other cities are apparently going to be protected by police armed with machineguns.
The move comes after intelligence reports in September that at least two known Al-Qaeda suspects had been spotted reconnoitring a huge gas pipeline facility at Bacton on the Norfolk coast in Eastern England.  This is seen as Britain's "gas supply tap", and its huge underwater pipelines are critical to the country's economic wellbeing.
A security source told the Sunday Times: "Police received intelligence of reconnaissance of the Bacton terminal by suspected Al-Qaeda terrorists. The suspects were sufficiently well traced [on intelligence files] for it to be worrying."
Decentralised energy solutions, anyone?