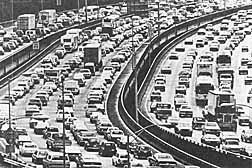 The Financial Times has reported how a "drive to convert American motorists to diesel will take a big step forward during the next few days as a more environmentally friendly version of the fuel goes on sale.
The clean-burning ultralow sulphur diesel emits only 15 parts per million of sulphur, compared with 500 parts for existing diesel. Used in conjunction with the latest diesel engines, it greatly reduces the noise, smell and soot that have up to now turned many Americans off diesel".
Stephen Johnson, the administrator of the Environmental Protection Agency, described the new diesel fuel as the biggest advance in clean fuels since the removal of lead from petrol in the 1980s. Diesel typically offers 30-45 per cent more fuel economy than petrol and is already widely used for trucks, buses and off-road vehicles.
But so far car owners have so far shown little enthusiasm. Though sales of diesel-powered cars and light trucks rose by almost a third last year, they still made up only 3.6 per cent of the total. In Europe, by contrast, diesels account for close to half of vehicle sales.
Allen Schaeffer, the executive director of the Diesel Technology Forum, a lobbying group, acknowledges that "the fuel itself is not going to generate a lot of excitement among consumers. The real promise comes with what it enables."
The hope is that interest will swell with the arrival during the next two to three years of a slew of diesel models with the exhaust-scrubbing technology required to take full advantage of ULSD. Mercedes-Benzand Chrysler both have diesel powered cars on the way. But will American consumers buy them?![endif]-->