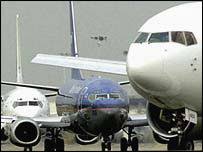 The owner of Heathrow airport, BAA, has said that a tax on the aviation industry would not have the desired effect on the environment but would cause inconvenience to many people by pricing them out of aeroplanes.
Instead, Stephen Nelson, chief executive of Britain's largest airport operator, said that a carbon emissions trading scheme was the best option for mitigating the damage done by flying.
"A tax to price people out of flying would not deliver the required environmental result", argues Nelson. "It would also damage people's quality of life. Of course we have to minimise the negative effects of flying, but the best solution is an emissions trading scheme, which would be both effective and popular".
Maybe someone should tell Nelson what climate change will do to millions of peoples' quality of life. Basically we will have to stop flying. Aeroplanes currently account for 2% of global carbon emissions, which is expected to rise to 15% by 2050.
We cannot reduce our carbon emissions to the required amount with air travel increasing as it is. That is the painful truth.