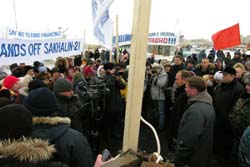 The British government has now waded into the spat between Russia and Shell over its $20bn Sakhalin-2 energy project, suggesting a diplomatic row could be brewing.
Downing Street, is said to be following events "very closely" and says: "The government is raising its concerns about the decision with the Russian government". The US state department is also said to be concerned about developments in Sakhalin.
But Bankwatch welcomes the Russians moved against Shell. Greig Aitken, of Bankwatch, says: "If there is talk of Russia asset-grabbing as it carries out its right to, belatedly, defend its environment, it should not overshadow the asset-grabbing Shell is attempting in the form of billions of dollars of international taxpayers' money for a project it has been unable to get right for the last three years."
A report by the group published today warns of mounting problems on Sakhalin. It says the arrival of 5,000, mainly male, construction workers has led to increased poverty for local communities, particularly women. "The gender-specific negative impacts, presented in the report, range from anxiety about the safety of children due to increased heavy traffic, to rising crime levels, sexual harassment and violence against women. Furthermore, it reveals trafficking of women and increased prostitution and HIV/Aids," says Bankwatch.