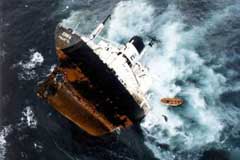 The French oil company Total and 14 other defendants were accused yesterday of criminal responsibility for one of Europe's most calamitous oil spills, the wreck of the Erika. Total is accused of agreeing to use the ship even though it failed to satisfy its own safety rules.
The four-month trial – the most complex of its kind in French history – may also turn into a trial of the "globalised" international shipping system.
The ageing and rusting ship, which split in two off off Britanny, on 12 December 1999, was Japanese-built, Italian-owned and controlled by two Liberian companies. The Erika was crewed by Indians, sailing under a Maltese flag, chartered by a shipping company registered in the Bahamas for a French oil company.
The tribunal in Paris was told that the ship had already been identified as a potential risk. It was nonetheless allowed to leave Dunkirk in high seas, carrying a cargo of 20,000 tonnes of toxic heavy fuel oil.
The ship foundered three days later, scattering solid blankets of oil up to a metre deep for 240 miles along the French coast. At least 150,000 seabirds were later found dead with up to 10 times as many were probably lost in the oil-blackened seas.
Eight years on, after a huge effort, France's beaches have been cleaned. But the bird and marine life of the Bay of Biscay and Breton coasts may never fully recover. The French state, local authorities along the French Atlantic coast and more than 50 private plaintiffs are seeking up to €1m (£665,000) in damages for the economic effects on tourism, fishing and the cost of the clean-up.