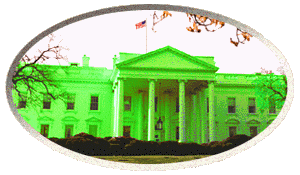 Did we witness the first green shoots of an ailing President in his State of the Union address?
After all the hype of what Bush was going to say about a radical course of direction on climate change, with him calling for a mandatory cap on emissions, it predictably failed to materialize. No surprises there really.
On the plus side, the President did actually mention the need to "confront the serious challenge of global climate change".
After his stark admission last year that America was addicted to oil, Bush has obviously warmed to the theme, mentioning it nine times this year, compared to not at all in his addresses of 2003, 2004 or 2005.
"For too long our nation has been dependent on foreign oil. And this dependence leaves us more vulnerable to hostile regimes, and to terrorists — who could cause huge disruptions of oil shipments, and raise the price of oil, and do great harm to our economy", said Bush.
Bush came up with a series of measures to reduce American dependence on foreign oil. One of his "great goals" is what is being called the "20-10" project, which is designed to reduce petrol use 20 per cent over the next 10 years ­ mainly by a five-fold boost in production of ethanol from its current 4.5bn gallons a year to 35bn gallons by 2017.
Once again this is a predictable response from the President though – ethanol production is popular as it guarantees a market for domestic farmers but the reality of such a goal may be difficult to achieve. Not least it would require huge advances in "cellulosic ethanol," and require up to 40 million additional acres devoted to growing the plant. It could even mean food shortages.
Bush also called for increasing fuel-efficiency standards for cars and trucks by 4 percent a year — about one mile per gallon — starting in 2010 for cars and 2012 for trucks. This has to be welcomed. However he also said that "we must step up domestic oil production in environmentally sensitive ways", which could be argued as code for drilling in ANWR and other ecologically sensitive habitats.
Bush also proposed absolutely nothing to control the emissions from power plants and factories, by far the greatest source of carbon dioxide and pollution. The reactions, apart from some very happy ethanol farmers have not been too kind. The New York Times called the speech "was limited in ambition". "His proposals were modest, and perhaps less achievable, than those he made a year ago when he said the nation was "addicted to oil," said the paper.
His omission of power plants energized his critics. "I am disappointed," said Senator Jeff Bingaman, Democrat of New Mexico and chairman of the Senate Energy Committee. "If this was a real effort to solve the climate problem, it would include large stationary sources and utilities," said Eileen Claussen, president of the Pew Center on Global Climate Change, a nonpartisan policy research group.
Philip Clapp, president of the National Environmental Trust, said, "The big numbers may sound impressive, but this is nothing more than stay-the-course on global warming." The proposal, Mr. Clapp said, represents a 1.5 percent cut in carbon emissions a decade hence. "They will still go up by 14 percent over the next decade."
Bronwen Maddox from the Times wrote: Are US politicians suddenly so convinced of the threat of global warming that they are prepared to do something about it? No: probably not for years, for all the talk. President Bush's decision to refer to climate change and energy security in his State of the Union address last night shows that it is on the political map … That doesn't mean that the White House or Congress is prepared to rush into action."
All in all far too little, far too late…